Data Protector

Backup and disaster recovery for diverse, dynamic and distributed enterprises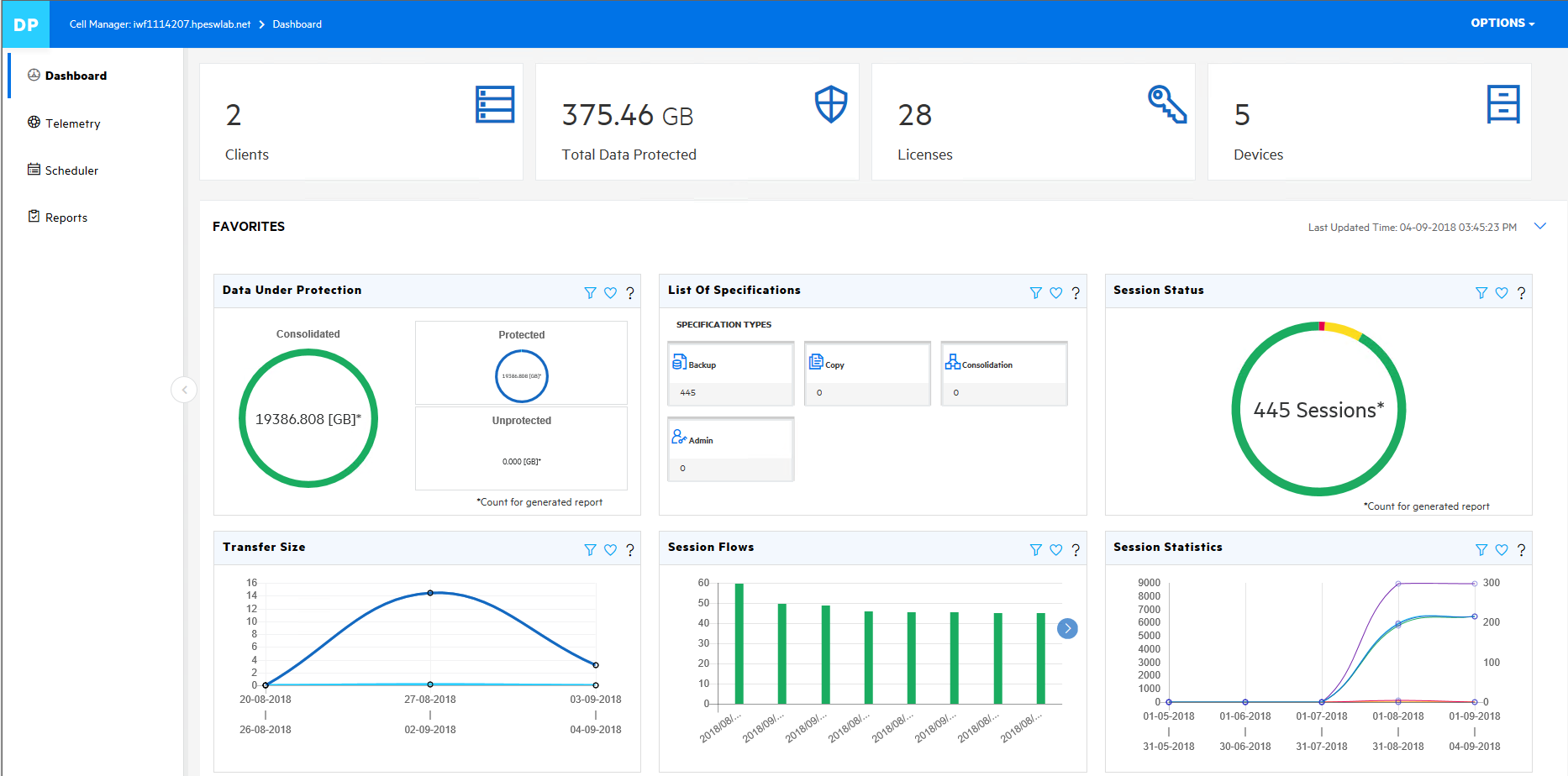 Data Protector is an enterprise-class data protection software which is designed to simplify and optimize backup and recovery for diverse, dynamic, distributed heterogeneous IT environments. Built on an adaptive architecture that combines security and analytics, it enables customers to meet their continuity needs reliably and cost-effectively.  Data Protector offers integrated automation, monitoring, and reporting—the three tools businesses need to efficiently manage their entire backup environment from a single console.
Data Protector is available in two editions with the following features:
Enterprise Scale and Security
Standardized protection across enterprise  

A unified and scalable architecture provides centrally managed backup and disaster recovery for physical and virtualized environments with disparate OSs, storage platforms, hypervisors and business applications across data centers and remote sites to a range of backup targets including disk, tape and cloud.

Secure backup and restore  

Secure peering sends all communication between Installation Server and Data Protector Cell Manager including commands via a secure Transport Layer Security 1.2 channel.
Centralized Command and Control allows only the Data Protector Cell Manager to send commands and instructions to the Data Protector clients, ensuring data integrity.
Encryption secures data by encrypting traffic over the wire.
REST API authentication and authorization layer, a secure interface to access Data Protector, enables seamless integration of backup and recovery tasks with customers' service portals or applications. 
Application-Consistent Recovery
Mission-critical applications and databases support (agent-based)  

Online extensions for business applications including Microsoft Exchange, Microsoft SharePoint, Microsoft SQL, Oracle, SAP, SAP HANA, IBM Db2, Sybase ASE, PostgreSQL, and MySQL provide application-aware backup and recovery. Agent-based backup can run inside a VM to manage application data consistency during the backup process.

Granular recovery 

Granular Recovery Extensions enhance the application management GUI with backup and recovery capabilities and provides application owners with a self-service option to search and recover single items. 
Backup and recovery for virtual environments 
Data Protector Express supports backup and restore of virtual environments and includes features such as snapshot integration, cloud and encryption support. It introduces socket based licensing to provide predictable licensing capability with no monitoring required for virtualized workloads.
Agent or agentless VM consistent backup 
Agentless backup uses VMware or Microsoft Hyper-V and KVM APIs to back up multiple VMs and their VM disks in parallel and stream them to a backup device.
Hardware-assisted agentless backup leverages storage snapshot integration to complete the backup operation, offloading the hypervisor and improving the VM performance and availability. 
Advanced restore operations     

Non-cached granular recovery (VMware) allows recovering the entire VM before reading its file content.
Cached granular recovery (VMware) allows the recovery of select files from a VMware virtual machine backup image directly from a supported backup target.
Virtual Machine Power On (VMware) allows VMs to be powered on instantly from the backup images that reside on supported devices.
Virtual Machine Live Migrate (VMware) allows to power a VM on from the backup image that resides on a supported device, and simultaneously start the data restoration to the destination data store.
Best-in-class Platform and Cloud Integrations
Comprehensive support matrix

Data Protector's support matrix enables users to standardize their data protection across physical and virtual environments which include a variety of applications, data formats, storage platforms, operating systems and hypervisors, and backup up their data to a range of backup targets, including disk, snapshots, tape and cloud.

Integrations with storage 

Zero Downtime Backup integration with HPE storage enables Data Protector to create, backup, and catalog space-efficient, application-aware snapshots.  
Instant recovery stages the desired number of replicas on the storage array and restores data from the replicas chosen for recovery.  
Integration with HPE StoreOnce Catalyst and Dell EMC Data Domain Boost enables federated deduplication which can run either on the application server, on the media server, or on the target backup appliance, reducing network bandwidth consumption.
NDMP-based backup and recovery integrations are available with storage vendors such as Dell EMC, NetApp and Hitachi simplifying NDMP backup configuration and management by using Data Protector NDMP media agent to manage backup data transfer.

Cloud integrations 

Native integrations with Microsoft Azure, Amazon S3 and S3 API-compliant storage such as Ceph and Scality allow seamless backup of data and applications to cloud. The backup data is compressed and encrypted before being sent to the cloud.   
Support for cloud gateways, such as a StoreSimple gateway for Azure or Amazon AWS Gateway, allow offloading backup data to the cloud if a gateway is required. 
Support for backup appliances, such as HPE StoreOnce CloudBank, enable seamless data transfer between on-premises backup data sets and cloud targets such as Amazon S3 and Microsoft Azure without the need for a gateway.
Disaster Recovery
Bare metal recovery for Windows and Linux clients

Enhanced Automated Disaster Recovery (EADR) allows clients and cell managers to collect relevant environment information automatically at backup time and to package the OS data and configuration files in a single large DR image. When disaster occurs, the DR backup can be used to recover the OS, configuration files, applications and user data.
One Button Disaster Recovery (OBDR) allows clients to use OBDR device to copy an image file onto a tape. When disaster occurs, the OBDR device is used to boot the target system directly from that tape. Data Protector then restores the original OS as it was at the time of backup.

Bare metal recovery for UNIX clients

Disk Delivery Disaster Recovery (DDDR) allows Data Protector to recover faulty disk sub-system using an auxiliary disk if the client system is not available or creating a new one if the client system is online.
Orchestration, Automation, and Monitoring
Basic integrated reporting

Both, Data Protector Express and Data Protector Premium include integrated reports which allow administrators to view client backup statistics, licensing, sessions, schedules information to effectively monitor the backup environment.

Advanced monitoring and reporting 

Interactive and customizable dashboard reports provide valuable insights into performance indicators of backup and recovery, allowing IT administrators to filter and modify views.
The rapid root-cause analysis identifies issues before they escalate into outages and data loss that hurt business operations.
Built-in predictive analytics engine provides trends and scenario-based modeling, potential scheduling conflicts and resource contentions, and the impact of new workloads on backup infrastructure (physical capacity, network load, and device load), enabling better management and planning of backup processes.

Business dashboards

Business Value Dashboard (BVD) provides a fast and easy overview of backup success rates to business executives or admins.  

Flexible orchestration and automation

Operations Orchestration incorporates Data Protector workflows to automate routine backup and recovery tasks such as backing up and restoring filesystems, monitoring cell manager tasks, provisioning of backup agents, monitoring the health of the cell manager's services, verifying a backup or checking the data on a medium, and managing sessions.
Automated recommendations are displayed to administrators based on the information gathered and analyzed by Data Protector, allowing for a faster and easier resolution of backup problems.