Operations Bridge
Automated AIOps for the digital enterprise.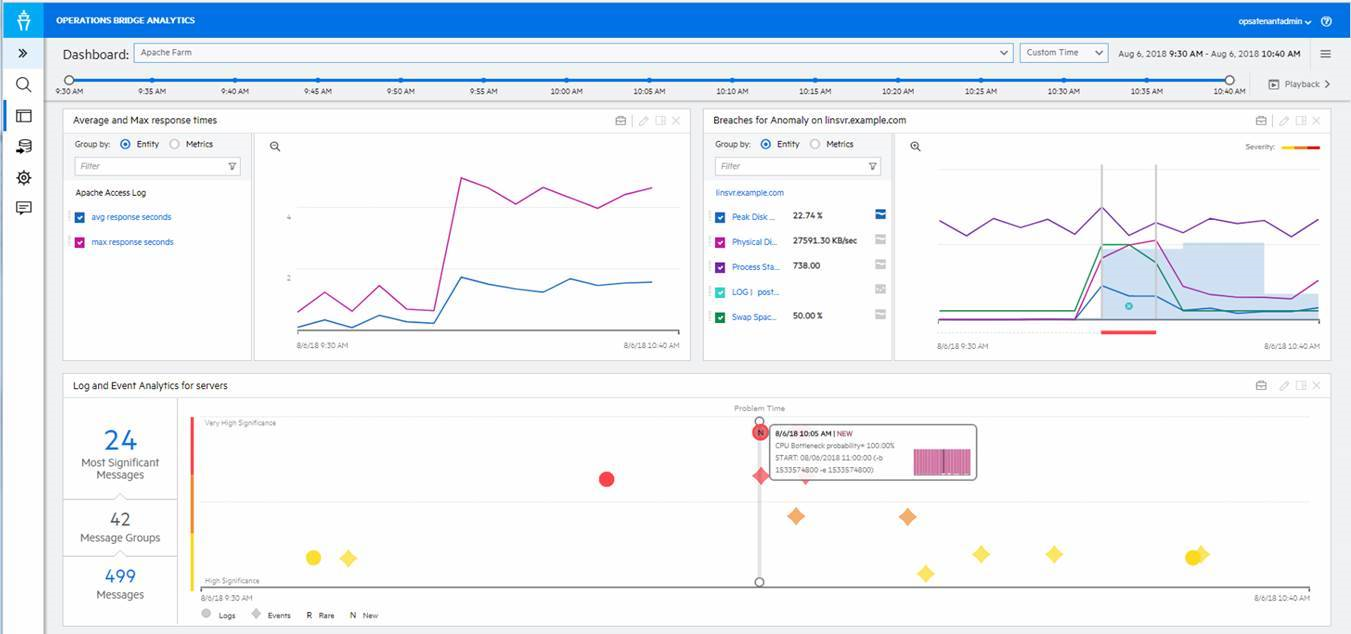 Operations Bridge is the industry's first containerized product that automatically monitors Hybrid IT, reduces data noise, proactively detects problems, rapidly executes remediation, and improves collaboration across tool silos. This results in 70x faster root cause, 50% less MTTR, reduction in the overall cost of IT Operations, and improved customer experience.
Operations Bridge is available in three editions with the following features:
+ additional license required
Automate Hybrid IT Discovery and Monitoring
Includes both agent and agentless performance & availability with specialized metrics, thresholds, and out-of-the-box templates across OS, DB, Middleware, Applications, and Cloud.
Public cloud monitoring across Google, Amazon, and Microsoft for IaaS and PaaS services for metrics, events, topology, wire data, and log monitoring.
Cloud workload monitoring with a low footprint, quick-to-install agent for streaming performance data.
Consolidate Data and Reduce Noise
Consolidate multivendor toolsets with out-of-box integration for all major IT Operations vendors including BMC, CA, ServiceNow, and IBM.
The business service aware solution combining application performance and infrastructure performance into a single view via topology understanding with a broad out-of-the-box EUM solution and integration into 3rd party solutions
Correlate and provide meaningful information with time, stream, topology-based correlation; enriched rules, and runtime service models.
Extensive intelligent platform collectors for monitoring servers OS, database, ERP system, application servers, virtualization, application platform, and packaged applications.
Out-of-the-box closed-loop analysis with leading service management tools like Micro Focus, BMC, and ServiceNow.
Automate AIOps and Robotize Remediation
IT Ops analytics and machine learning solution with more than 50 patented algorithms for clustering, anomaly detection, and faster remediation.
Orchestrated remediation engine with more than 8000 out-of-box workflows with Operations Orchestration.
The solution with COSO and a broad range of historical and streaming IT operations data types including log data, event data, wire data, and application data.
Optimize cloud and virtualization across vendors adding what-if analysis and workload placement optimization.
Analyze Application Health
Monitoring of on premise and SaaS applications from multiple locations by simulating business transactions against applications.
Spot performance issues for each transaction step, and break response time across web layer, application server, or database.
Agent or agentless monitoring for application platforms including Cisco, Citrix, Microsoft, Oracle (WebLogic, Siebel) SAP, and many others.
Customize Dashboards and Reporting
Big data reporting platform for IT Operations using Vertica for historical data persistence and SAP Business objects to build business intelligence reporting.
Lightweight flexible dashboarding design with Microsoft Visio using predefined widgets and ability to display any JSON format data in your own dashboards.
Extensive out-of-the-box cross-domain reports for resource, event and response time reporting across server, network, and application environments.
ITOM Platform
Monitoring with containerized architecture for easy installation, maintenance, and relocation (from on premise to the cloud).
IT operations team collaboration with ChatOps support for Slack, Mattermost, and Microsoft Teams.