ITOM Platform

Delivering ITOM portfolio as a set of composable, extensible microservices built on an auto-scalable, enterprise-ready and seamlessly upgradable foundation.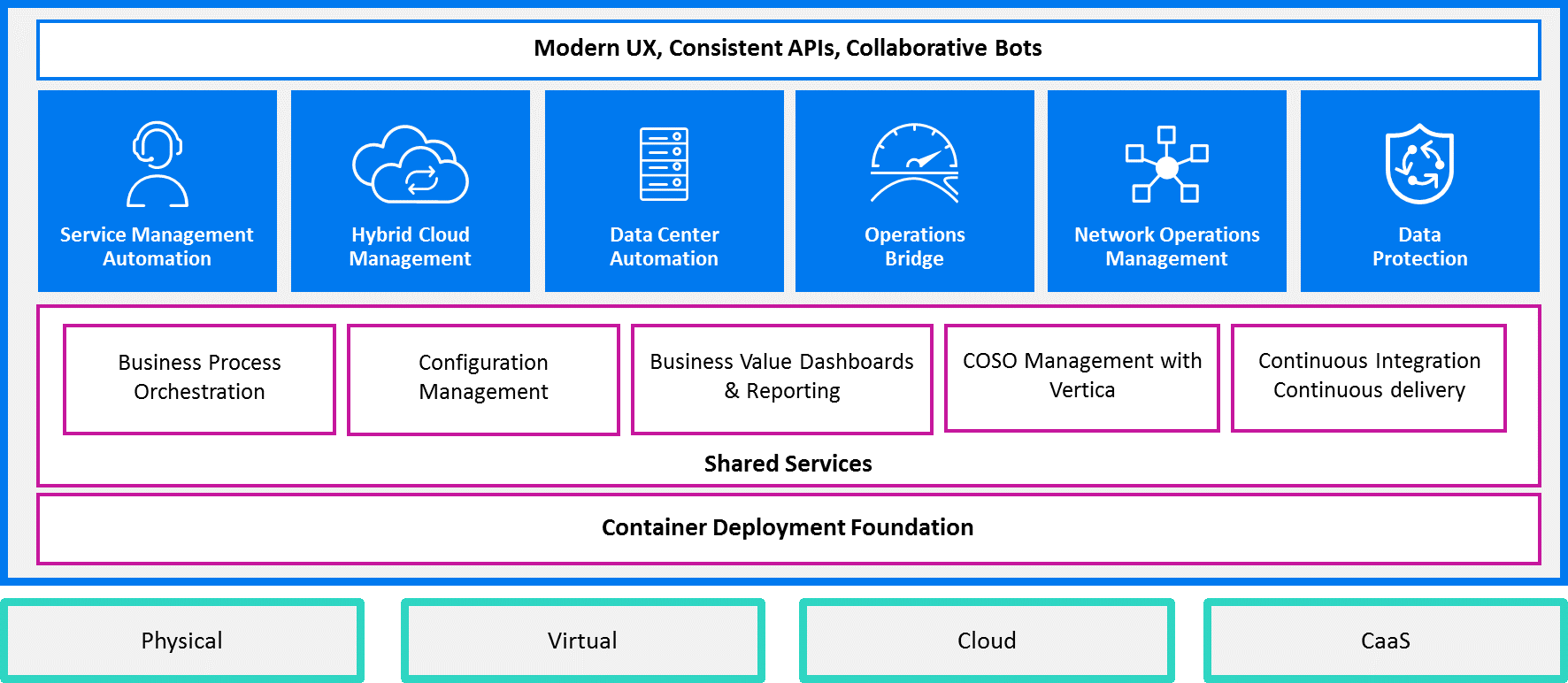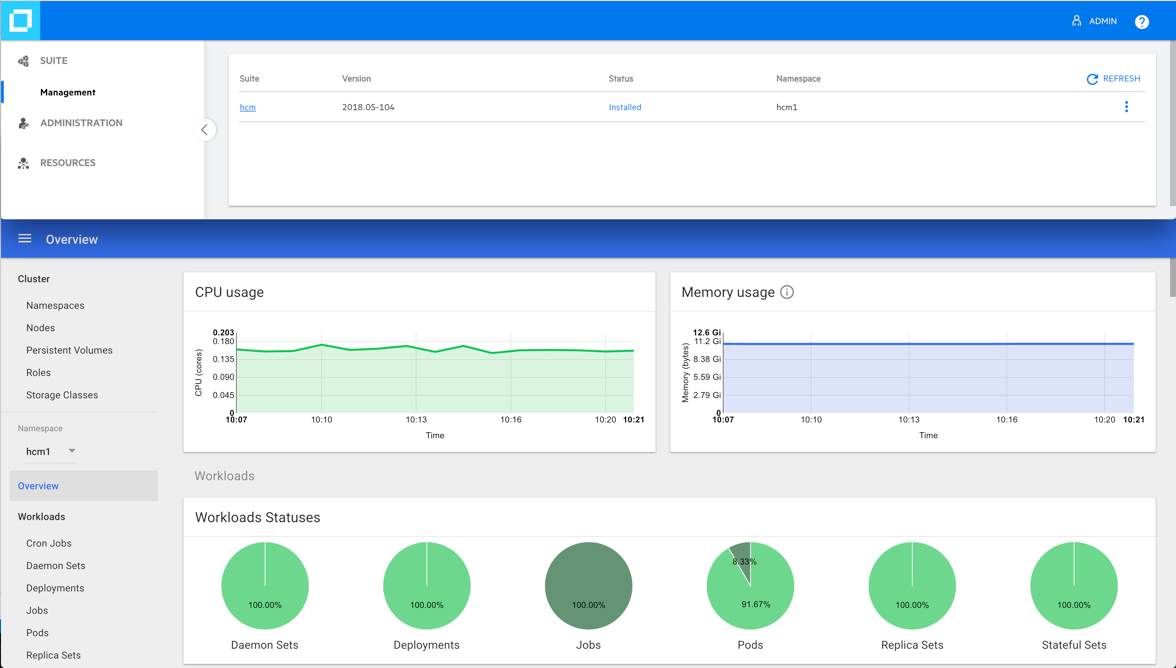 The containerized services are shared across the ITOM portfolio and fulfill multiple roles from foundational to functional. Foundation capabilities include the operations of the platform itself, such as container orchestration and management, scaling, upgrading, self-monitoring, logging. Functional capabilities extend the functional of products with workflow orchestration, discovery, dashboarding, data collection/storage, reporting, collaboration. The ITOM Platform simplifies how customers deploy, manage, and consume services.

ITOM Platform delivers a variety of built-in and optional services, some are requiring licenses and some are embedded in the platform.
Feature
Included
Licensed
Core Services
Container lifecycle management, upgrade and scale
✔
Enterprise Readiness
✔
Platform Agnostic
✔
Technical Services
Identity
✔
Licensing
✔
Logging
✔
Monitoring
✔
Continuous Delivery
✔
ChatOps
✔
Functional Services
Orchestration
✔
Configuration Management System
✔
Collect Once Store Once
✔
Business Value Dashboard
✔
Core Services
Cluster and container management for automating deployment, scaling and management operations
Built on the foundation of key container open source software such as Docker (container delivery format) and Kubernetes (K8S) (container management and orchestration)
The CDF core services are shared across the portfolio to enable several foundational capabilities leveraged by every suite in the ITOM portfolio
Container lifecycle management, upgrade and scale
Ability to scale both the infrastructure and suite capabilities based on observed load using the embedded monitoring tooling
Rolling upgrade and rollback capabilities without having to bring the production system down
Administers densely populated containers, creating pods and clusters and providing schedulers, security tools, storage, virtual network management systems, and monitoring tools.
Enterprise Readiness
High Availability: ITOM Platform delivers scalability, disaster recovery and high availability on two levels:

as a part of the platform itself
as suites and services that reside on the platform

Scalability of the ITOM Platform is enabled via Kubernetes, which can handle 5,000-note clusters with up to 150,000 pods. These metrics are increasing with every new release of Kubernetes.
Platform Agnostic
ITOM Platform and suites can be deployed on bare metal, in virtual environment, on a public, or a private cloud.
Amazon Web Service is fully supported and Microsoft Azure is supported in customer test and development environments.
Technical Services
Consolidation and sharing of services required for suite management and integration Flexible deployment, rapid and dynamic scaling, and simplified maintenance
Identity
Centralizes authentication of ITOM platform users
Provides integration with LDAP and Microsoft Active Directory services
Licensing
Centralized license management to organize and manage product licenses, server users, and client users
Usage Tracking and Report: tracks the current licenses in use, as well as the usage history for licensing administrator to get a quick trend report on the feature usage.
License Reservation and Blocking: allows reservation of license capacity for a group/s of clients.
Different types of Floating Licenses
Logging
Collection, aggregation and streaming of distributed infrastructure and application logs, allowing for further analysis and troubleshooting
Monitoring
Offers out-of-the-box compute resource usage analysis and monitoring of the distributed ITOM deployment, enabling reporting on key metrics including CPU, Memory, Disk, and I/O
Continuous Delivery
Rolling upgrades of ITOM services
Rolling modified and enhanced services from pre-production to production with release gates and approvals
ChatOps
ChatOps service delivers on new collaboration activities opening the door to complex bot to bot communication and remediation use cases.
Bots are delivered as part of each ITOM application
Functional services
Value-add services that are within and can be shared across multiple suites to enhance suite-specific use cases and extend them or create new ones To optimize the use of shared functional services, the following functional services are available to be used as stand-alone:
Orchestration
It enables central IT to automate and orchestrate repeatable IT operations from incident remediation to service requests and IaaS to cloud automation.
Task automation, Incident remediation, change management, IaaS, Cloud, Network automation, disaster recovery, SAP automation or DevOps are the top use cases you can address with Operation orchestration.
The strength of the solution comes from a rich and regularly maintained out-of-the-box content library of 8000+ operation workflows, 300+ application components and 80+ integrations.
Configuration Management with Discovery (CMS)
Automatically collects (by discovery or integration), reconciles, manages and presents data about all configuration items and their relationships.
The collected data includes the infrastructure components (hardware and software), their dependencies and relationship to the applications and business services they are part of.
Collect Once Store Once (COSO)
Data ingestion service, allows simplification of data collection and storage, eliminating duplication of collected and stored data and enabling creation of a Big Data Lake with a high performing real-time analytical database, Vertica, for further correlation and analysis
Data access via APIs (REST, SQL) with streaming as well as batch processing support, for consumption by various capabilities like analytics, performance dashboards, log management and reporting.
Serves as a single place for external business intelligence tools.
Business Value Dashboard (BVD)
BVD bridges IT and business data by displaying KPIs from both in simple dashboards.
BVDs are designed using common tools, and they are easy to customize and modify.
BVDs can be accessed anywhere, anytime from any device and can display data from any suite, service or third party. Access to a Vertica data warehouse allows the combination of historical data, analytics, and real-time metrics in one graphical display.