Service Management Automation

­­ The machine learning based service desk delivered on-premises or in the cloud.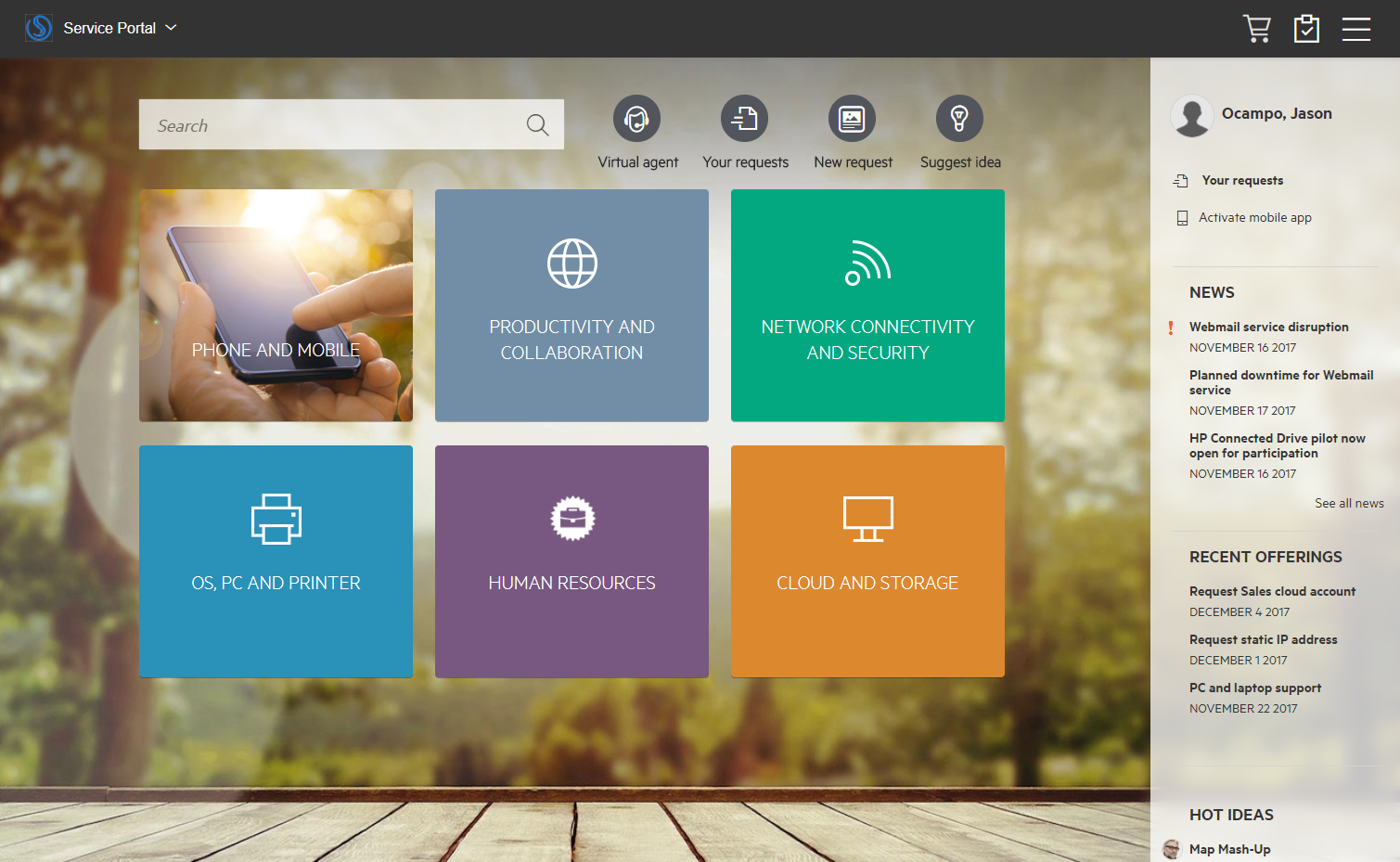 Service Management Automation X (SMAX) is the first application suite for service management and IT Asset Management built on machine learning and analytics, integrated with UCMDB and Discovery. It can be deployed on-premise, in private or public cloud, or moved from one to the other, based on container technology. Its scalable, multi-tenant architecture makes it easy to install, configure, and run.
Service Management Automation X is available in two editions with the following features:
Machine Learning and Analytics-Based Service Desk
Express Edition

Smart ticket capability uses an Optical Character Recognition (OCR) and machine learning system to accept and intuitively route service requests.
Smart search globally searches within and outside of service management modules to offer self-service solutions to users, or to provide suggested solutions to service desk agents. Search results are actionable, meaning agents can create a problem from related found incidents.
Hot Topic Analytics use advanced search and analytics capabilities to enable you to view and analyze patterns in incidents, requests, and other records and to create knowledge articles or problem records based on those patterns.
Smart Self-Service with Social Collaboration
Express Edition

Virtual agents provide automated 24x7 assistance, complemented by integrated live-chat or email to enhance continuous customer support.
Social collaboration features including the ability to vote, ask a friend, or survey to help end-users source answers from the community and enhance end-user autonomy.
On-the-fly translation provides end users with access to portal content and service desk updates in their preferred language.
Native mobile application on Android and iOS complements the web service portal with a streamlined, native interface that focuses on key tasks that need to be managed on the go.

Premium Edition

Catalog aggregation allows end users to use the SMAX Service Portal to request catalog offerings that are defined and fulfilled in Service Manager along with the SMAX defined and fulfilled offerings.
Modern User Experience for Enterprise Applications
Express Edition

Service desk with a comprehensive set of ITIL aligned Service Management applications including Service Request Management, Incident Management, Problem Management, Change Management, Release Management, Service Level Management and Configuration Management
ChatOps provides collaboration between people and tools by providing commands to search, view and update incidents. Additionally, view suggested knowledge articles that include hyperlinks to the full knowledge article in the knowledge management module. It supports collaboration tools such as Microsoft Teams, Slack, and Mattermost to link SMA with those tools through a command line interface.
Live Support provides the service desk agent with key information and tools that can help to efficiently process new service and support requests and inquiries received by telephone

Premium Edition

Procurement module manages the end-to-end lifecycle of IT asset purchases. It tracks and manages purchase orders and purchase order lines, as well as the relationship with purchase requests. It facilitates moving purchasing assets into stock and reconciles with inventoried assets.
Enterprise Service Management with applications for IT Asset Management and Project Management; Human Resource workflow, Application and Service Portfolio Management, Financial Tracking, Ideation, and Proposal Management.
Codeless configuration and easy upgrades
Express Edition

Allows users to define and edit an application's fields, forms, business rules, processes, and notifications, as well as importing data and defining custom actions for the application.
SMAX Studio enables the creation of user-defined, process-based applications and supporting tables through codeless configuration capabilities.
Automated upgrades give customers almost instant access to new features and capabilities.
Multi-Tenancy for Service Provider Support
Express Edition

Supports deployment of multiple tenants per installation that can be used for development, test, or production environments.
The multi-tenant console and grid allow leveraged agents to view and edit records from multiple customers' SMAX tenants in a single user interface.
Multiple tenant deployments can be used by service providers to host environments for multiple customers within a single installation.
ITOM Platform with Flexible Deployment Options
Express Edition

Pre-integrated use cases and processes that can be extended through re-useable micro-services, and RESTful APIs.
Built-in scalability with auto-scaling at both the node level and pod level.
Automated deployment based on container deployment foundation enables easy installation, maintenance, and patching with minimal downtime.
Can be deployed on bare metal, virtual machines, or in the cloud.
Supports AWS and Microsoft Azure.
Is available through AWS Marketplace.