Key concepts
OMi as the operations bridge provides a single center of control for your IT operations.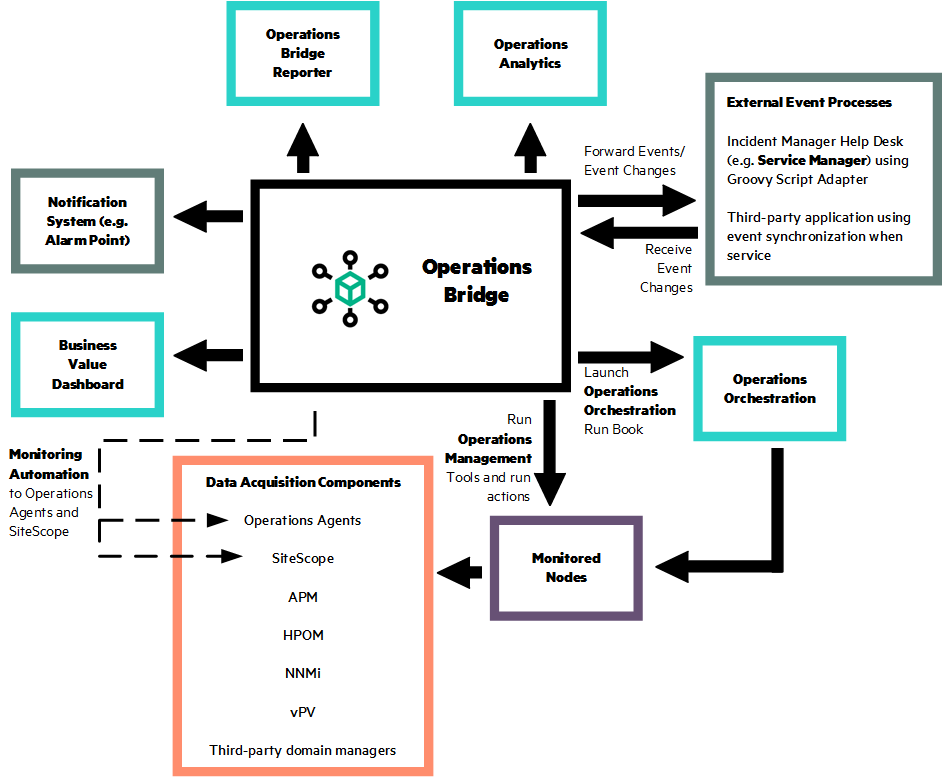 All event and performance management data originating from servers, networks, applications, storage, and other IT silos in your infrastructure is consolidated into a single event stream in an advanced, central event console. The console displays monitoring alerts to the appropriate team of operators.
You can quickly identify, monitor, troubleshoot, report on, and resolve problems in your distributed IT environment. These abilities make it possible for you to improve the performance and availability of the infrastructure and services in your monitored environment, adding to the efficiency and productivity of your business. OMi helps you locate and solve event-related issues before business service quality degrades. It offers the tools that help operators solve problems without involving a subject matter expert. This frees subject matter experts to focus on strategic activities.
Key concepts
The following key concepts are important to understand before you start working with OMi: 
Data Acquisition from Multiple Sources
The events, regardless of where they originate, are processed and managed in a unified manner. Examples of event sources include:
Operations Agents configured by

OMi

Operations Manager for UNIX
Operations Manager for Windows

Network Node Manager i

SiteScope

Systems Insight Manager
Third-party management software, normally used to monitor specific environments or special needs not monitored by other solution components, such as Microsoft Systems Center Operations Manager or Oracle Enterprise Manager. Connectors to integrate third-party management software, such as Microsoft SCOM, Nagios, and IBM Tivoli into

HPE

OMi

are available from HPE Live Network.